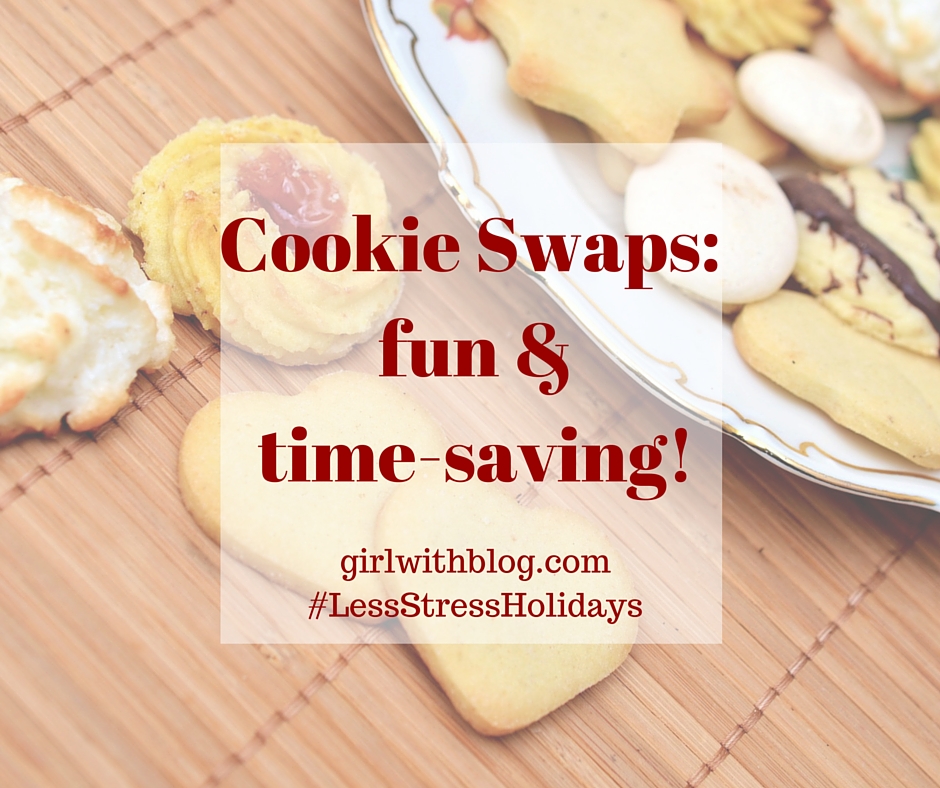 Big crazy cookie swaps aren't for everyone; the big crazy ones aren't for me either. But if they're low-key and simple, they can actually be great time savers and a lot of fun!
Have a cookie swap with friends! Bake two-dozen cookies. Gather around your table and set all the goodies out. Walk around the table taking 2-3 of each cookie until they are evenly distributed to all attendees. Everyone goes home with about 2-dozen different cookies – not too many, not too few, and all new to you! Easy as that.
Here are a few of my favorite recipes for swaps. I've brought several of these to my annual cookie swap with MOPS friends:
3 cups semisweet chocolate chips (use good quality chocolate; don't skimp!)
1 – 14oz. can sweetened condensed milk
1 tsp. vanilla

In a large microwave-safe bowl, combine chocolate chips and sweetened condensed milk. Microwave on high for 2 minutes, then stir in vanilla. Pour fudge into 8×8-inch pan that has been lined with wax paper. Refrigerate until firm, lift wax paper out and cut into squares.
Cookie swaps may have gotten a bad rep, but again, they could actually save you time and stress! I'll be a swap lifer. =)
---
Cookie swaps may have gotten a bad rep, but they could actually save you time & stress! <– tweet this!
Foolproof Microwave Fudge from @anna_r: http://wp.me/p3cCDz-1LM
<–tweet this!
---
This post is part of my 31 Days to a Less-Stress Holiday Season series. Make sure to subscribe via email and follow this Pinterest board (it will have each post + graphic as they go live) so you don't miss a single post!