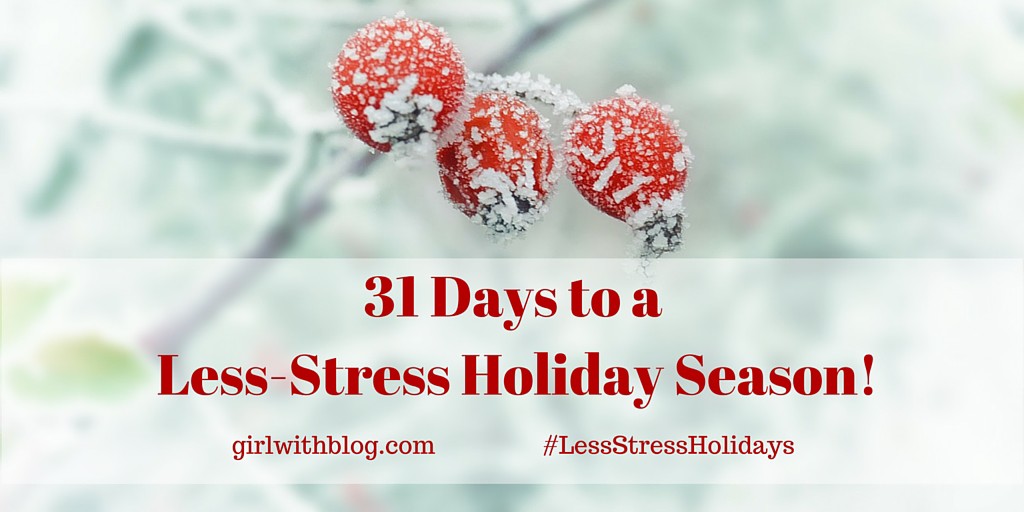 I have this thing for Christmas (you can read more about why here). And even though she created Christmas miracles for us, I never saw my mom stress over it all. She was a single mom on a teacher's salary with three kids enamored with Christmas. Pinterest didn't exist, but pressure is timeless – yet I never saw her buckle under its force.
I want that.
Now that I'm a mama, my 'thing' for the magic and beauty of the season is only intensified as I create memories for my kids and family. But I want to do it all in love, not in stress-induced pressure. I need moments of Christmas too, which is why I wrote this book – a daily Advent devotional for me and for you. I wanted to be rooted in scripture, in remembering who He is – Emmanuel, God with us. I don't want to let stress consume my heart and my December.
I want to be fixed on the coming Christ child as we prepare to celebrate His birthday, and takes a lot to stay focused.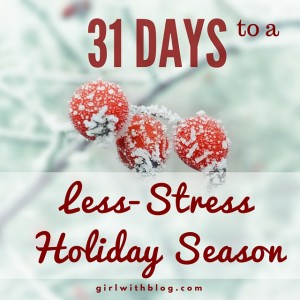 Amidst the regular busyness of Advent and Christmas preparations, our family celebrates two birthdays between Thanksgiving and Christmas. It can be a hectic season, and I want to go into it as organized as possible, back pockets stuffed with tips & tricks for enjoying the wonder of the season and not succumbing to stress. Over the years, I've learned a lot of ways to do this, and I want to share all of them with you.
I've written and gathered together 31 tips, tricks, stories, Scriptures and recipes to help you enjoy the upcoming holiday-filled season with less stress. Read start to finish, you'll end this series as November begins – just in time for the best of autumn, all things pumpkin, Thanksgiving, Advent and Christmas – with your lists and hearts will be ready for it all.
There are practical takeaways, pin-able pretties, and fun surprises (promise!) Follow this Pinterest board to see each post, and make sure to pin this page with the list of all posts. Tweet & invite your friends to join in the fun, and together, let's work towards a less-stress holiday season!

31 Days to a Less-Stress Holiday Season!
Day 1 :: Pray Over Your Season
Day 2 :: Create & Use a Holiday-Only Notebook
Day 3 :: Intentional Decor Only 
Day 4 :: Let Your Kids Help (for real!)
Day 5 :: Have a Quiet Night
Day 6 :: Freezer Cooking is Your Friend
Day 7 :: #realmomconfessions: A Real-Life Trip to the Orchard
Day 8 :: Create Your Holiday Soundtrack
Day 9 :: Clean Out Your Closets
Day 10:: Stovetop Holiday Potpourri
Day 11:: Layout & Label Your Serving Pieces
Day 12:: Community Ideas!
Day 13:: Gifts in Jars
Day 14:: Christmas Morning Caramel Rolls
Day 15:: Stockpile for Stockings (and other gifts)
Day 16:: Wrapping Paper (only buy & use what you love!) 
Day 17:: Simple Gifts
Day 18:: Let it Go.
Day 19:: Books for Your Heart
Day 20:: Books for Their Heart
Day 21:: A Prayer for the Parking Lot
Day 22:: Advent Calendar Roundup
Day 23:: Slow-Cooker Pumpkin Spice Latte
Day 24:: Cookie Swaps
Day 25:: Peppermint Popcorn Crunch
Day 26:: at (in)courage today
Day 27:: Plan a Polar Express Trip
Day 28:: Use Subscription Services
Day 29:: Apple Cranberry Casserole
Day 30:: Create a Gift Spreadsheet
Day 31:: Happy Holidays!