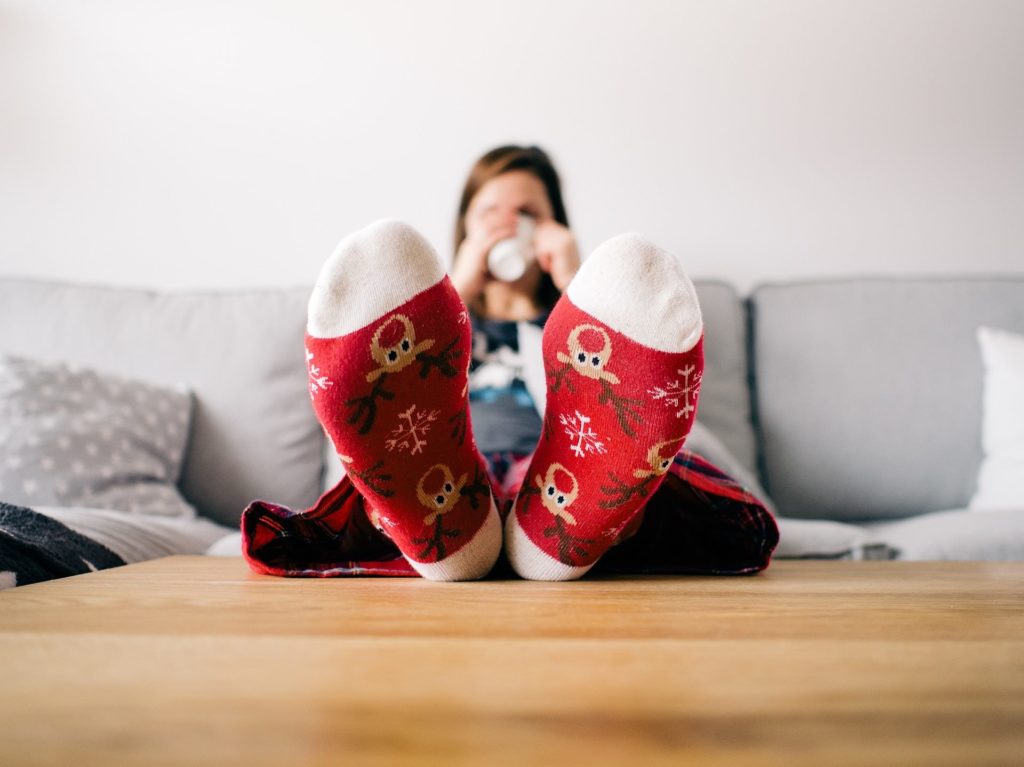 With Thanksgiving later this week and the start of Advent just around the corner, it's open season on Christmas. I can't stop. We've been rockin' Christmas music for weeks, and the decor has started to trickle out of the bins. It really is beginning to feel a lot like Christmas here in Minnesota – it's snowed several times, and the temperatures are in the 20's. But inside is toasty and warm, and the spirit of the season has even descended on our television.
It's all holiday movies, all the time around here! Cheesy holiday movies are just what we need right now to counteract the news, the stress, and the to-do lists. They're perfect background noise for gift-wrapping, hall-decking, and to-do-list-checking. That's why I'm attempting to watch them all. Yep, all 67+ holiday movies premiering on the Hallmark Channel, Hallmark Movies & Mysteries, and a few from Lifetime and Netflix.
Did I tell you we don't have a DVR and I'm watching them in real time? Uh-huh.
That love for these movies is exactly why my friend Mary and I created the Hooked on Holiday Movies Bundle for you! We want you to be able to fully experience the season, and that includes holiday movie fun. The bundle includes a printable holiday movie premiere schedule, collection of holiday recipes, access to an exclusive holiday playlist, tips for hosting a holiday movie watching party, and more! And on top of all that goodness, today I have even more ways to make your holiday movie watching experience ever more fun!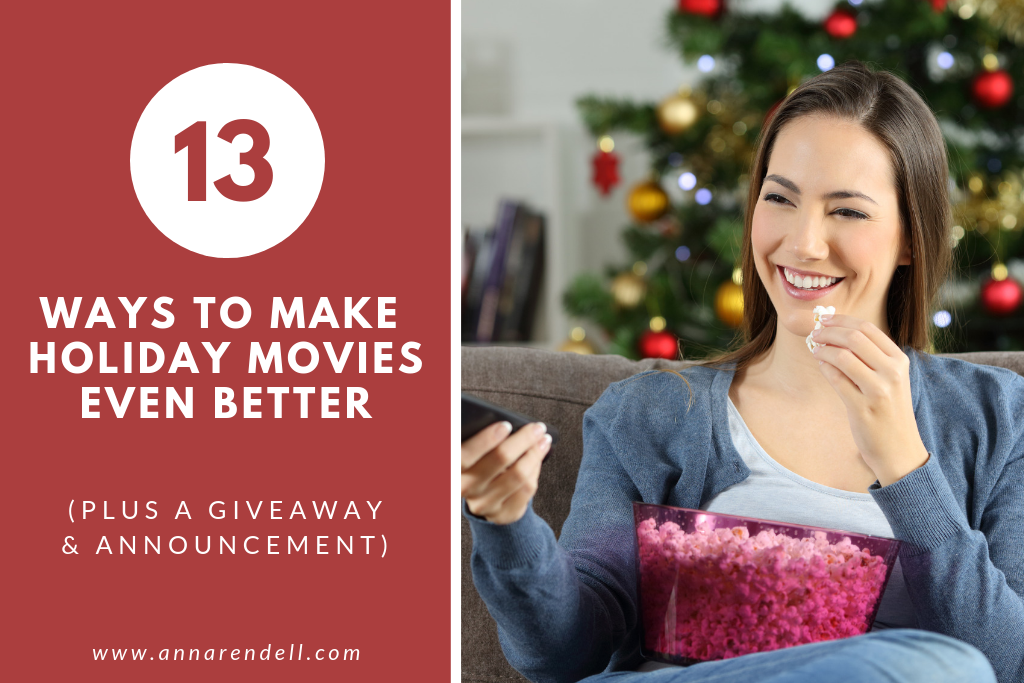 In anticipation of the "A Shoe Addicts Christmas", the new Candace Cameron Bure movie premiering this Sunday night on the Hallmark Channel (and the reason behind my HUGE announcement below), I re-watched a few of her past holiday movies — "Journey Back to Christmas", "Christmas Under Wraps", and "Switched For Christmas". Not only was it just plain fun to watch them all again, but it made me even more excited for the premiere of "A Shoe Addict's Christmas," and gave me a bunch of ideas for you! Here are 13 ways to enjoy holiday movies even more: 
Get comfy in the proper attire.
Fill up this bowl with popcorn, snack mix, crackers. . . whatever your favorite movie-watching treat is (mine is popcorn with butter!)
What's a movie without a warm beverage? This is my favorite winter tea to sip on while the snow flurries outside. I brew a cup, curl up on the couch, and it's like an instant winter wonderland. Only inside. And warm.
Obvs you'll need a pretty (and big) mug to hold your warm beverage. This one is beautiful, and it just feels good (know what I mean? It's got good heft to it.)
Grab your favorite cozy blanket. "Christmas Under Wraps" takes place in Alaska, and all it takes is a few scenes to realize that Candace and her Alaskan pals know the value of a warm blanket. There's nothing cozier than curling up to watch a good movie with a great blanket. Here's a tutorial for making a simple fleece tie blanket – just grab two cuts of fleece and get tie-ing!
During commercials, bake up some cookies! This recipe is delicious and simple enough to do in four-minute chunks.
Trade out your popcorn for those fresh cookies.
In "Journey Back to Christmas," Candace's perfume is the key to confirming her time-travel (I'm not making that up). Whip up a holiday perfume or cologne using essential oils! Here are a few recipes for men's colognes, and here are a few tips for womens.
Pick up your phone and send an e-card, letting a friend know you're thinking of her.
Another commercial break? Stand up and stretch!
In "Switched for Christmas", Candace plays twin sisters who have a touch of 'grass is greener' syndrome, so they trade lives for a few days. While you're watching that holiday movie about the woman who gets a glimpse of Christmas in her 40's, or magically re-lives the same Christmas Eve over and over again, or travels in time to get it right. . . give thanks for where you are, right now, as is. Write down some thoughts of gratitude in a journal or even just on your phone. It's a simple multitasking project that will warm your heart.
Swap your heels for comfy footwear! Even a shoe addict has fuzzy socks or worn slippers in her closet. In her upcoming new movie "A Shoe Addict's Christmas", it looks like our gal Candace gets locked in her store overnight, and gets a visit from her guardian angel. She gets the chance to visit Christmases past, present, and future in hopes of discovering the true spirit of Christmas. They say the shoes make the girl, and I can't wait to see Candace's!
And the last one? THIS: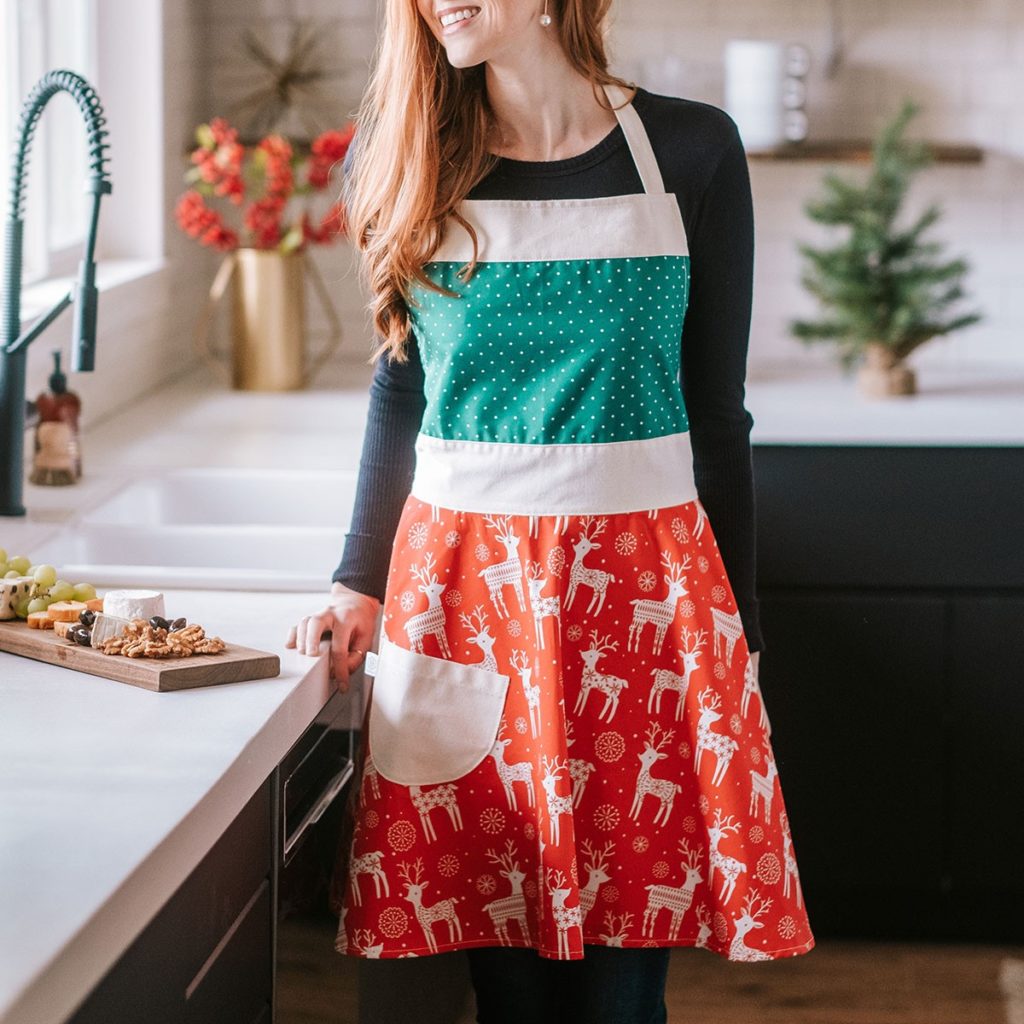 13. Wearing the world's most adorable apron while baking this holiday season will enhance your holiday movie watching experience for SURE! This "Dough, A Deer Apron" is the VERY SAME apron that Candace wears during "A Shoe Addicts Christmas", and it's from our beloved DaySpring! And friends, it really is just that darling in person. Of course I bought it and have already been wearing it around my kitchen. Grab your whisk and turn on that TV; holiday movies are the perfect background for holiday baking, and this apron is just icing on the cake. (Get it??)
This apron is a happy addition to my own apron rack (yeah, I have an apron rack) and my friends at DaySpring are going to give one of you an apron to add to your kitchen! See below for details.
HOW ABOUT THAT ANNOUNCEMENT?!
Why am I so excited about the new Candace Cameron Bure movie? Because I love shoes? Because I love magical Christmas movies? Because during the movie premiere from 7-9pm on Sunday night I'll be live tweeting and co-hosting a live watch party with my gal Mary on the DaySpring Facebook page?
YES to all of the above!!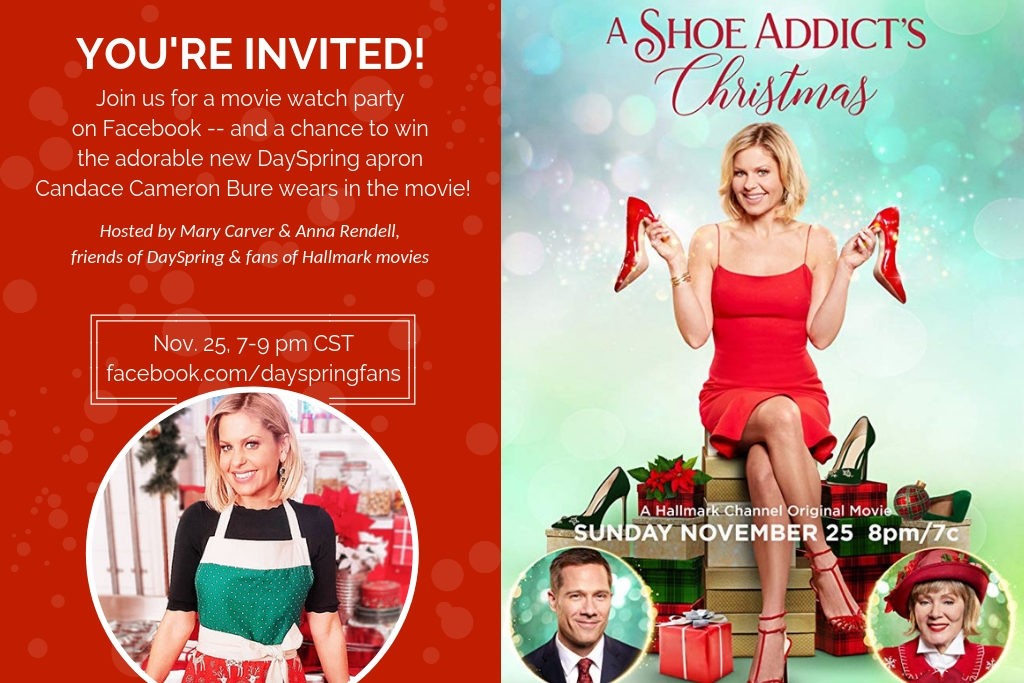 Head on over to Facebook and mark your calendar for this live movie watch party! We can't wait to watch along with you. We'll be sharing trivia, holding giveaways, and of course offering you our play-by-play reactions and opinions to the movie. And you know I'll be wearing my own Dough, A Deer apron and totally squealing when Candace and I MATCH during the movie. So make plans to get the kids to bed early and claim that corner on the couch, commandeer the remote, pop the popcorn and get ready for some holiday movie watching fun!
NOW HOW ABOUT THAT GIVEAWAY?!
To help make your holiday-movie watching experience even better, DaySpring is giving away the following items to one lucky reader: the totally darling Dough, A Deer apron Candace wears in the movie, a Joy – Christmas Hand-Thrown Mug to sip hot cocoa from, and a matching Oh What Joy – Christmas Candy Dish to load up with popcorn. YAY! Enter below to win.

a Rafflecopter giveaway

What holiday movie are you looking forward to watching this year?
---
Post sponsored by DaySpring, but of course all opinions and suggestions are my own. Affiliate links used.