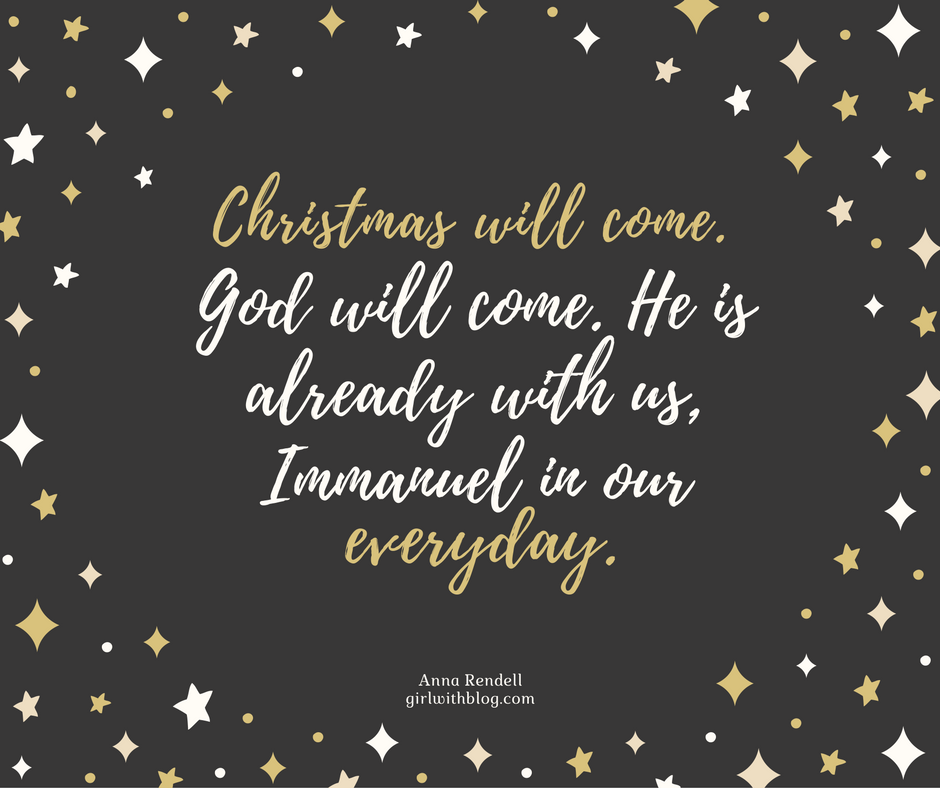 The boxes are piled shoulder-high throughout the basement, full of every single earthly possession we have.
In the next three weeks there will be four preschool/church Christmas programs, my son will turn 5, a writing deadline will pass, Christmas Day will come and go, and my baby sister will get married.
Lunches will be packed, meals will be made, baths will be given. Words and glances will be exchanged, laundry will (maybe) be done, crumbs and toys and towels will be left on the floor until I have a fit.
Life will march along, way too fast for the beat of this drummer. And after it all, Christmas will come.
Maybe the next three weeks will hold joy for you, and maybe they'll hold pain. Perhaps both. Either way, Christmas will come.
Maybe the next three weeks will hold cleaning, baking and wrapping, decorating and movie nights. Maybe the next three weeks will be idyllic, and beautiful, and storybook, and that's ok. At it's happy ending, Christmas will come.
Maybe the next three weeks will hold hard things. Floods of memories, too many to hold in your heart so you eat, you run, you shop… you cope. Waves of disappointment, in family and friends and yourself and this season that's supposed to be full of beauty and peace, only you feel neither. On a day when you'd rather stay in bed, Christmas will come.
Maybe the next three weeks will hold busy. Drop-off, pick-up, work, all the everyday daily that grinds and rubs wrong and blesses all at once. A kid might throw up and you'll most likely step on a bunch of Legos. You'll hold every tiny detail together, and juggle way too many invisible, unseen, under-appreciated balls up in the air. You'll shop and wrap and get dressed for church. Your back will ache and the kids won't sleep all night and family drama will ensue and you'll be the glue that holds all the moving pieces together. Especially when there just aren't enough hours in a day, Christmas will come.
Maybe the next three weeks will hold feelings of loss, of abandonment. Maybe you'll experience a parting of ways in a relationship. Maybe you'll feel as though God is taking (or has taken) everything, or even just some things, away from you. Maybe you'll feel as if Christmas couldn't possibly arrive in your house, in your heart, because you have no room and nothing to give. Even (maybe especially) when you're running on empty and full of disappointment, Christmas will come.
Christmas came to a peasant girl in 1st century Palestine.
Christmas came to a world steeped in sin.
Christmas came to a barn in the middle of the night. Christmas came to a feeding trough.
Christmas came to Whoville, where all of their Christmas had been taken. Stolen in the night, yet Christmas came.
He hadn't stopped Christmas from coming. It came. Somehow or other, it came just the same. It came without ribbons. It came without tags. It came without packages, boxes or bags! Maybe Christmas doesn't come from a store. Maybe Christmas, perhaps, means a little bit more.
Christmas is bigger than anything in your way because Christmas is Jesus. And Jesus comes to us in all walks. In all times. In all capacities. Jesus comes to us in pain, in joy, in despair and anguish, in everyday apathy, in seasons of wealth and seasons of pennies. He doesn't diminish our situation or feelings, but He comes faithfully to meet us right where we are. Overwhelmed, underwhelmed, overworked, underappreciated, over it, under it… He comes.
Whether you get the cookies baked and gifts bought, whether the boxes are unpacked and the house is clean, whether your schedule is jam-packed or clear, whether your spirits are bright or your heart is heavy… Christmas will come. God will come. He is with us already, Immanuel in our everyday.