I'm sitting on a couchbed tonight, grateful and overwhelmed and a little raw. I haven't slept in what feels like days, my eyes sandpapery and dry, and my stomach in knots from eating junk food all day today. Today my little 2-month old baby girl had a minor surgical procedure, and we're staying overnight so they may monitor her as they had to use light sedation during her surgery.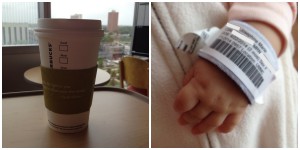 The gratitude comes from the non-severity of our reasons for being here. That they didn't have to use much general anesthetic for her, which was a huge fear for me. That the procedure to remove her umbilical granuloma went perfectly (I'll detail our experiences with this in another post), and she doesn't seem to be in any pain at all. That the care she's receiving is great and the hospital is gorgeous and even comforting. That my boys were here earlier tonight and brought good pizza and now I'm sitting quietly while baby J sleeps.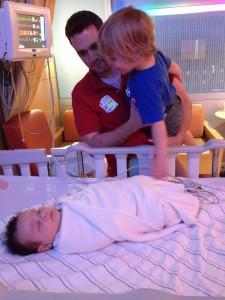 The overwhelmed mingles with the raw. I walk down the hall to take a break and cry, because the other rooms are occupied by families that have obviously been here much longer than one day. The baby next door is hooked up to tubes, toys stacked at the base of her bassinet and a swing next to that. There are felt letters spelling out another patients name, puffy-painted to perfection and carefully arched across her doors' window. Breathing a sigh of relief when a 'code blue' is cancelled. The other parents as they've been sitting in the waiting room before we walked into it and still there when we walk out. The look in their eyes.
In becoming a mother, my greatest joy met my greatest fears. In the deep love I have for my children, there is such fear of losing them that sometimes I can't breathe. It's my deep dark, the one I refuse to even name because then it's one step closer to being true and I can't bring myself to even fathom. And here, in this children's hospital with the orange and green walls, that fear is being realized by other parents right.this.minute and I cry alone in the dark because what if. A wave ebbs over my heart and I hit my knees for these kids and their parents, pleading that they too may go home tomorrow.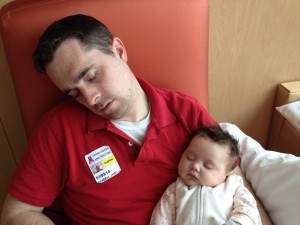 It's been a very long day, and I am overwhelmingly grateful to know that we will walk out of here, healed and healthy. There's a little guilt mixed in too. Like if the other parents knew what we were here for – her belly button, for crying out loud! – they'd scoff and call me a poser. I totally feel like a poser. Because they're doing laundry here and living here and know the staff by name and tomorrow my baby will go home in 100% health. So I smile and give a small nod and a quiet thanks for an end room, because then they won't see my perfectly healthy baby.
Tonight I just needed to write. To kick it old school blogging style, where I just showed up to the fence emptyhanded – without a graphic or a one-liner or anything but babbly feelings and a keyboard. This hospital stay has bubbled up a lot to process in my heartguts, and I process in letters, so here I am. They just took baby J's vitals at midnight, and will be back at 4, so I've got to get this little baby back to sleep and catch a few winks myself. Time for cuddles and tears of gratitude and the rhythm of a mama sway, and then I'll tuck back into this slidy couchbed, grateful again.
-Anna {girl with blog}