I love my wife's friends in the computer. You bring her joy, encourage her, give her space to write with a real and sometimes raw freedom, and become her friends outside the computer too. She also gets opportunities to partner with awesome organizations and companies, who do things she cares deeply about.
And this guy gets to reaps the benefits.
For example, when she opened up her latest Gooseberry Patch Early Bird Reviewer cookbook and it said "Grilling and Campfire Cooking" on the front, I grunted – a deep manly grunt. I knew she'd let me cook some awesome things out of there. I told her the other day that if I have a midlife crisis, I'd consider culinary school. I don't really know much about cooking, but I've been binge watching Master Chef on Hulu while bouncing the baby girl to sleep so now I think I can cook anything. Its been fun to tag team meals with Anna in these past few months.
So, as I mentioned in the last post, our new grill is simply spectacular. For Father's Day my dear wife sent me to a Big Green Egg Basics cooking class at Kitchen Window. It was so fun! I learned a ton, and now I want to grill every meal. When I grill, I like to be able to grill the whole meal; its almost annoying to me to have burners going in the house, and the grill on outside. That means you need awesome recipes for side dishes and this is one we've now made three times. Its simple, forgiving of my marginal grillings skills, and really tasty.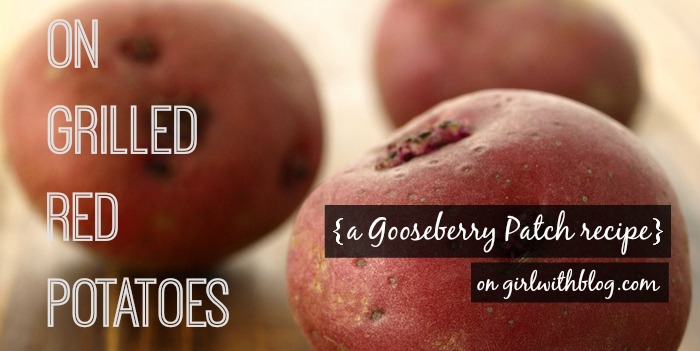 Grilled Red Potatoes
submitted by Lee Dyer,  Waco, KY


Grilling and Campfire Cooking

, Gooseberry Patch
4 redskin potatoes, sliced
1 sweet onion, sliced
1/2 green pepper, sliced
1/2 c. butter, sliced
seasoned salt to taste
Combine all vegetables on a 12-in. length of heavy-duty aluminum foil. Dot with butter; sprinkle with seasoned salt. Top with another sheet of foil; double-fold all 4 sides to create a packet. Place on grill over medium-high heat. Cook for about 40 minutes, turning packet over every 10 minutes, until potatoes are tender. Serves 4.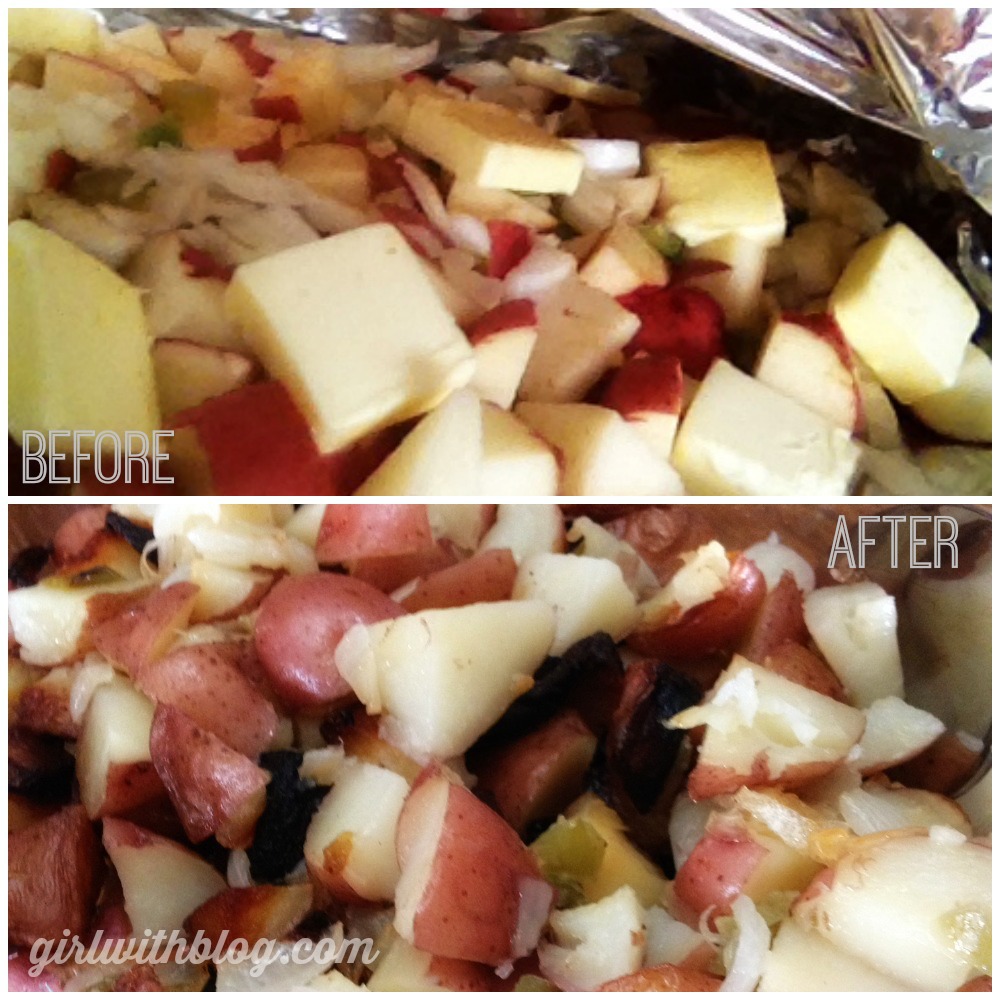 The giveaway of my new favorite cookbook right here on Girl With Blog ends tomorrow. Make sure you enter to win a copy!
Anybody have any favorite meals completely done on the grill that you'd share with me?