There's a bit of a war going on here in the Twin Cities of Minnesota. The rivalry has been aired on TV, radio, and plays out every day in the hearts of burger loving Minnesotans. There are two restaurants that claim to be the birthplace of the one of the best ideas ever: two great burger patties, bursting with melted cheese in the middle. So good. Matt's Bar claims a 1954 invention of the "Jucy Lucy" (they forgot the "i"). The 5-8 Club's Juicy Lucy (spelled grammatically correct) also claim a 1950's creation of this beautiful burger. They've battled it out on Man vs. Food and Food Wars.
We've tried to DIY these burgers more than once before, with marginal success. Gooseberry Patch's Grilling and Campfire Cooking cookbook to the rescue! They call them "Inside Out Burgers" which is just fine, unless you're from the Twin Cities, where the Juicy Lucy reigns. Here's how its done:

Inside-Out Burgers
submitted by Lynda Mayes Hanscom AFB, MA


Grilling and Campfire Cooking

, Gooseberry Patch
2 – 2 1/2 lbs. ground beef sirloin
2 T. Worcestershire sauce
2 T. favorite steak seasoning
1/4 lb. Colby Jack cheese, cubed
6 slices bacon, crispy cooked and crumbled (To my deep sadness, we were out of bacon. Out of bacon! So I left it out, but would never let that happen again.)
4 hamburger buns, split
Place beef, sauce and seasoning in a large bowl. Mix together, using your hands, just until combined. Divide beef mixture into two parts with one part a little larger than the other. Divide larger part into 4 flattened patties; top each with cheese and bacon. Make 4 smaller patties and place on top of larger stuffed patties. Pinch sides to seal well. Grill burgers to desired doneness over medium-high heat, about 6 to 8 minutes per side. Serve burgers on buns. Makes 4 servings.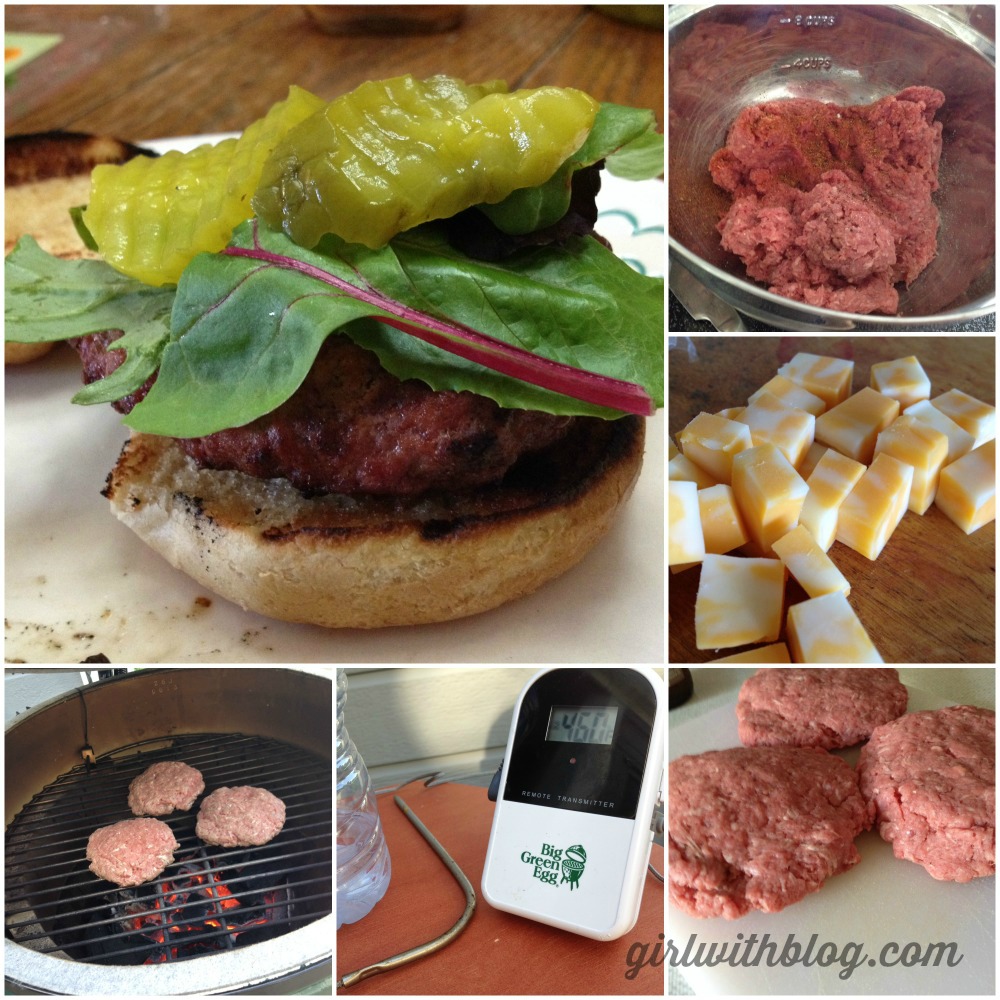 These burgers were one of the first things cooked on our new Big Green Egg we were given as a gift. It was quite the upgrade from the rusted out gas grill we'd been using. This grill is my new best friend.
–Anna hopping in to remind you – you can win a copy of Grilling and Campfire Cooking right here! What's your favorite kind of burger? And is it JUCY Lucy, or JUICY Lucy? =)